5 Candy-Kernels of Info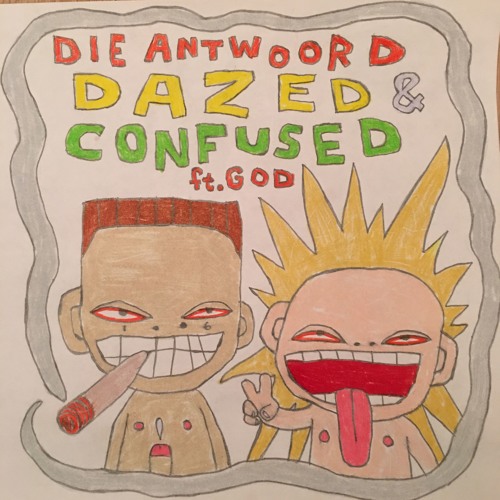 1.  Jazz Monroe noted that Die Antwoord's new track not only features God, but is also produced by GOD – mixtape to drop next Thursday, 19 May 2016 (Pitchfork). Back and forth duet lyrics drop a bomb in psychedelic proportions. Ninja's smooth flow is uniquely accented by blunt hits, island-rap,  and Yolandi's minaturized voice. Her petite sound works multi-layered effect through a twisted journey of heat brought by Ninja.
2.  Anna Gaca said, "Inexplicable South African rappers Die Antwoord have announced a new mixtape, Suck on This, with a whisper-rapped first single, 'Dazed & Confused.' It Doesn't come with one of the group's patented creepy music videos, but it does have a vulgar and childlike drawing of Ninja and Yolandi Visser…" (Spin).
3.  Ryan Reed quoted Die Antwoord's Instagram post in which the LP's title was changed to We Have Candy; Ninja said: "We though hey wait a minute kidz LoVE candy!!! and… WE HAVE CANDY…lots of fukn candy" (RollingStone). Click HERE to read Reed's full article.
4.  Collin Robinson saw the expected references to drugs and sex in Die Antwoord's "Dazed & Confused," he said, "The song has an expectedly weird aesthetic with a slightly reggae-tinged rhythm cut by laser-gun synths and J Dilla's signature siren drop. Yolandi barely audibly whispers, contrasting Ninja's speedy, sputtering cadence as they alternate and play off each other's melodies" (Stereogum). Click HERE to read the full article.
5.  Yolandi on personal style:
"My hair was long with a fringe and people would make jokes, calling me Britney and Lady Gaga. I told Ninja I needed to go in a different fucking direction. I wanted to have an edge that was more like me on the inside. Ninja said we should just cut the sides off, and I said, 'Fuck, let's do it.' And it was just, BAM – there's Yo-landi. It affected the music, it affected the way I acted and how I felt. For me it was like a birth or something" (Hypetrak).
"Dazed & Confused (feat. God)" by Die Antwoord
from Suck on This Mixtape:
https://youtu.be/O8TfPZ_-snc
Tour Dates:
Die Antwoord has 18 upcoming shows scheduled for their 2016 Tour. Click HERE to view the full schedule and purchase tix through SongKick.
Shout to Sources: Pitchfork, Spin, RollingStone, Stereogum, Hypetrak, YouTube, SongKick